Seven members of Zalando's Helsinki team ("Zelsinkis") meet at the Helsinki airport on a Sunday afternoon. It doesn't take long for the first challenge to hit us in the face — or feet, I should say. Our airline decides to change our departure gate, and we're on the other side of the airport. Gotta love it. Got to RUN!
Our team — five engineers, one producer (that's me!), and one team assistant/community manager — safely arrive in Dusseldorf and start looking for info on how to find the right train to Dortmund, and how to purchase our tickets. Past visits to Germany have taught us to bring cash along; using credit cards everywhere remains a utopian fantasy here. We eventually reach the train, which is packed, and after a few hours arrive safely to Dortmund. Let the hacking begin!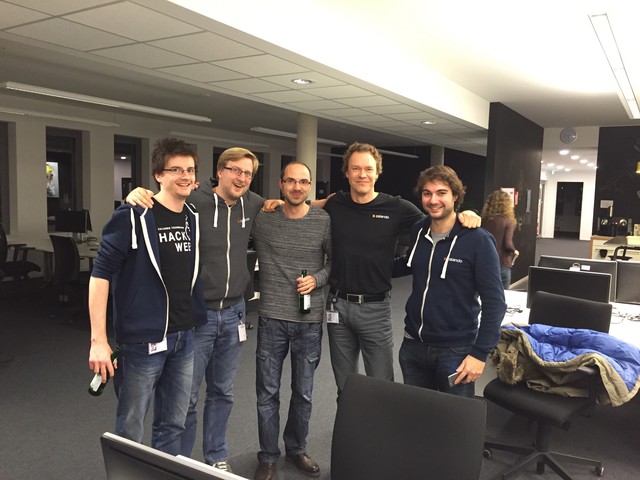 My team and I have been spending our Hack Week working on Zinder: an iPhone application that takes all of the information from our internal tech personnel database, converts it into user profiles, and then shows the information in a Tinder-like format. If you like someone's profile and they "like" you back, you can start messaging each other instantly via HipChat.
To create Zinder, we put our internal personnel information in Redis and used Scala and Play Framework on the backend. Our team includes two backend engineers (one of whom remained back in Helsinki), one iOS developer, and me. It's been a few years since I last wrote code, so I took up graphics design duty and generated our icons, logos and other assets. I also learned a lot about Xcode, the iOS developer environment. On our second hack day we received a lot of help from a veteran member of our Berlin tech team, who helped us create our login feature and advised us on infrastructure. Beta testers from our Dortmund, Helsinki, and Dublin tech hubs are helping us to find and fix issues.
For now, the purpose of Zinder is to help our colleagues have some fun and put names to faces. If we decide to formally propose it for internal adoption, we'll carefully rethink its concept and UX. Our team has talked about adding additional features to help Zalandos find colleagues and teams with particular skills or interests.
Hack Week has been a great success for me personally: From Helsinki to Hack Week, from producer to UX designer, from facing a challenge to overcoming a challenge. Like Bill and Ted, I've just had an an excellent adventure. And so much fun!